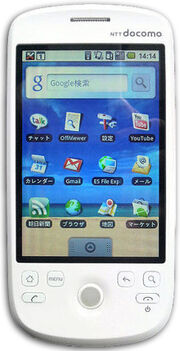 Phone Name: HTC Sapphire\MyTouch 3G
Release Date: 02/2009
Carrier: T-Mobile (GSM)
Release Version: 1.5/1.6/2.1
Manufacturer: HTC
Specifications
Edit

Processor: Qualcomm MSM7200A 528MHz
Memory: 192/256/512MB
Rear Camera: 3.2MP
Front Camera: none
Screen Size: 3.2"
Screen Resolution:
Battery Capacity: 1340MhA
NFC: no
Weight: 118g
Dimensions (LxWxH):
Ad blocker interference detected!
Wikia is a free-to-use site that makes money from advertising. We have a modified experience for viewers using ad blockers

Wikia is not accessible if you've made further modifications. Remove the custom ad blocker rule(s) and the page will load as expected.