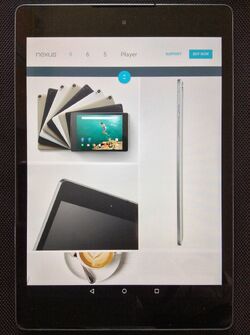 The Nexus 9 is the newest Google Nexus tablet device and the second newest Google tablet device that was released alongside with the Nexus 6. It was released alongside Android 5.0 Lollipop, being one of the first devices and the first tablet to run the version of the operating system. It is the successor of the Nexus 7 (2013) and the predecessor of the Google Pixel C. It has been manufactured by HTC.
Ad blocker interference detected!
Wikia is a free-to-use site that makes money from advertising. We have a modified experience for viewers using ad blockers

Wikia is not accessible if you've made further modifications. Remove the custom ad blocker rule(s) and the page will load as expected.