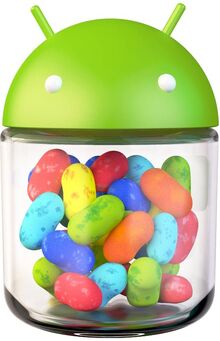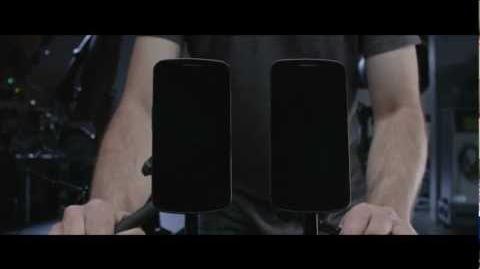 For other uses, see Jelly Bean (disambiguation).
Google released Jelly Bean 4.3 on July 24, 2013 during an event in San Francisco called "Breakfast with Sundar Pichai". It has the slogan "An even sweeter Jelly Bean".[1][2] It was introduced alongside the Nexus 7 (2013) tablet.[3] Android 4.3's predecessor was Android 4.2 Jelly Bean and its successor was Android 4.4 KitKat.
New features and changes
Edit
Bluetooth Audio/Video Remote Control Profile (AVRCP) 1.3 support[2]
Filesystem write performance improvement by running fstrim command while device is idle
Improvements to Photo Sphere[citation needed]
Reworked camera UI, previously introduced on Google Play edition phones[citation needed]
Addition of "App Ops", a fine-grained application permissions control system (hidden by default)[citation needed]
4K resolution support[citation needed]
Many security enhancements, performance enhancements, and bug fixes[citation needed]
System-level support for geofencing and Wi-Fi scanning APIs

Background Wi-Fi location still runs even when Wi-Fi is turned off[2]

Developer logging and analyzing enhancements[citation needed]
Added support for five more languages (Hindi, Afrikaans, Amharic, Swahili, and Zulu)[1]
Improved digital rights management (DRM) APIs[citation needed]
Right-to-left (RTL) languages now fully supported[1]
Clock in the status bar disappears if clock is selected as lockscreen widget[citation needed]
Added a tab in settings that lists disabled apps[2]
Android 4.3.1 was released on October 3, 2013. It included bug fixes and small tweaks for the Nexus 7 (2013) LTE.[citation needed]
References
Edit
↑ 1.0 1.1 1.2 1.3 1.4 1.5 1.6 Burke, Dave and Gabe Cohen. "Introducing Android 4.3, a sweeter Jelly Bean." The Official Android Blog. Published 24 July 2014. Web. Retrieved 31 December 2014.
↑ 2.0 2.1 2.2 2.3 2.4 2.5 2.6 "Android - 4.3 Jelly Bean." Android.com. Web. Retrieved 31 December 2014.
Ad blocker interference detected!
Wikia is a free-to-use site that makes money from advertising. We have a modified experience for viewers using ad blockers

Wikia is not accessible if you've made further modifications. Remove the custom ad blocker rule(s) and the page will load as expected.